↞
recipe box start page
*MEATBALLS IN CRANBERRY AND PINOT NOIR SAUCE*
Shelly's
recipe box

view my recipes
this recipe viewed 1,178 times

print

save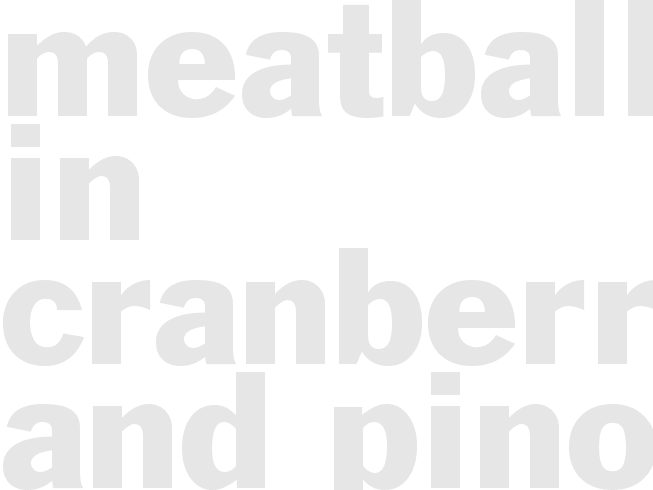 Category:
Meatballs
Prep Time:
Cook Time:
Total Time:
2 (1 lb) bags frozen cocktail-size meatballs
Pinot Noir Sauce (see recipe below)

Preheat oven to 375. Lightly oil a large shallow baking dish or pan.

Prepare Pinot Noir Sauce and pour over the meatballs; bake for an additional 15 minutes. Remove from oven to a heated chafing dish or a slow cooker and keep warm while serving. Serve with appetizer toothpicks.

Pinot Noir Sauce
1 (16 oz) can whole cranberry sauce
1 cup firmly packed brown sugar
1/2 cup Pinot Noir wine or red wine
2 tsp hot Chinese mustard

In a medium-size saucepan over medium heat, add cranberry sauce, brown sugar, pinot noir wine, and Chinese mustard; stir to combine. Let simmer for 5 minutes, stirring often. Remove from heat; set aside.

Note: This recipe is part of a user's personal recipEbox. It is not part of the CDKitchen collection.
recipe comments
add a comment:
You must log in to comment on this page
related member recipes
Beef Tenderloin With Pinot Noir Shallot Sauce
by sgre52160
1 (6-lb) beef tenderloin, trimmed 1 pound shallots, peeled and halved lengthwise 1 cup Pinot Noir wine 2 tbsp olive oil 3/4 tsp salt 1/2 tsp pepper 1 tbsp salt 1 1/2 tsp granulated onion, granu
Peppery Pinot Noir Tenderloin
by sgre52160
3 tablespoons butter, room temperature, divided 1 tbsp flour 1 cup finely chopped onion 1 cup finely chopped carrot 1 cup finely chopped celery 2 tbsp tomato paste 1 1/4 cups Pinot Noir win
Cranberry Meatballs
by sgre52160
2 lbs ground chuck 2 large eggs 1/3 cup dry breadcrumbs 1 tsp salt 1/2 tsp pepper, garlic powder, onion powder and thyme 1 (16-oz) can cranberry sauce 1 (12-oz) jar chili sauce 1/4 cup
view more member recipes